Big Honkin' End-Grain Chopping Block - Walnut and Cherry
---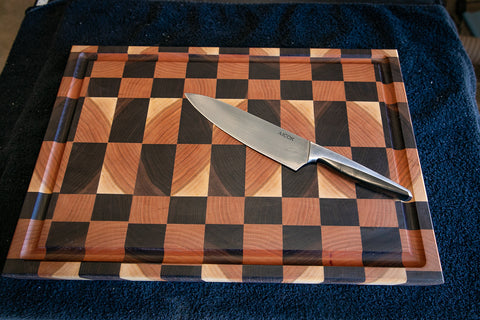 This is a big mama chopping block! Plenty big enough for your latest large culinary creations including brisket, pork butt, whole chicken and racks of ribs - this board was made to tame those large cuts, and with a large juice channel you can be sure those meat juices don't go spilling onto your counter top.
This board was made from slabs of walnut and cherry, and weighs in at 12 pounds. This 2" thick end-grain beauty is waiting to serve your next culinary masterpiece.
There is a large juice channel to keep your counter clean when cutting into your latest culinary creation and we routed in handles along the edge to make it easier to lift.
Dimensions: 20" x 13.5" x 2"
Weight: 12 pounds
As with all our boards, this board has been coated with 4 coats of Howard Butcher Block Conditioner mineral oil/wax mixture and is ready to be used.
Price includes UPS ground shipping to lower 48.
Related Products
---